Skip to content
Dishwashers 101
1. Measure Your Space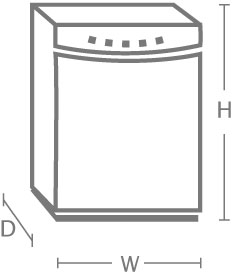 DISHWASHER
Measure the width and depth of your new dishwasher.
W: side to side
Most dishwashers are 24″ wide.
D: back to front
Most dishwashers are 25″ deep.
H: top to bottom
Most dishwashers are 34″ – 36″ tall.
Note: Some models offer adjustable leveling legs to accommodate varying counter heights.
CUTOUT SPACE
Measure the width and depth of the dishwasher cutout space in your kitchen.
ENTRANCE & DOORWAYS
Measure the size of the doorways, hallways and other points of entry you'll need to pass through when you bring in your new dishwasher.


2. Additional Considerations
Evaluate the Features
Tall-Tub Styles
A compact motor makes more room for large pots and pans.
Sound Insulation
Dampens the sound of operation.

Choose Your Accessories
Cleaners
Keep your new dishwasher fresh by powering away built-up residue with affresh® Dishwasher Cleaner.


Pick a Colour and Finish
Models are available in:
Important Considerations
Installation
Contact a licensed professional for installation. New installations require significant carpentry, electrical and plumbing skills.
Electric
Confirm that electrical output is sufficient for the location of your new dishwasher. You will need:
• A grounded electrical outlet (no extension cord or adaptor)
• A separate 15 amp circuit
• Refer to your dishwasher's Use and Care Guide for additional installation requirements and guidelines.
Disposal
Some retailers offer removal of your old dishwasher with delivery of your new one. Dishwashers in good condition may be donated to a local charity.