Skip to content
Ranges 101
1. Measure Your Space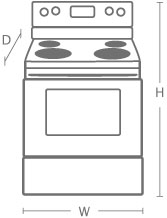 RANGE
Measure the width and depth of the range.
W: side to side
Add 1″ to both sides for air circulation.
D: back to front
Add 2″ to depth to accommodate the door handle.

CUTOUT SPACE
Measure the width and depth of the range cutout space in your kitchen.
ENTRANCE & DOORWAYS
Measure the size of the doorways, hallways and other points of entry you'll need to pass through when you bring in your new range.


2. Is your connection gas or electric?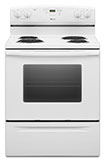 Electric
Available with traditional coil heating elements or ceramic glass cooktops.
Benefits: Cooking elements provide consistent, even heat. Oven heats evenly and quickly. Ceramic cooktops are easy to clean.
Requirements: Connect to electric for cooktop, oven, clock and lights. Ceramic cooktops need special cleaners.
Look For: Hot surface indicators for added safety. Convection fan to circulate oven air for shorter baking times.

Gas
Most gas ranges can be connected to a natural gas or propane line.
Benefits: Visible flame provides precise control over a wide range of temperature settings. Burners retain little heat when turned off – so cooking stops almost immediately.
Requirements: Connect to gas line for cooktop and oven and to electric for clock and oven lights.
Look For: Electronic ignition to light burners instantly. Sealed burners for easy cleanup.

3. Additional Considerations
Evaluate the Features
Ceramic Glass Electric Burners
Ceramic glass electric burners provide a smooth, easy-to-clean surface provides great cooking performance.
These gas burners generate additional heat for large cooking jobs or quick boiling.
Self-Cleaning Oven
The added insulation makes it more energy efficient.

Choose Your Accessories
Installation Kit
Your new range may require that you purchase an additional installation kit in order to fully install your range and get cooking.
Cooking Tools
Amana brand offers specialized tools built specifically for your new range to help you serve the perfect meal every time, no matter what cooking challenge you take on.
Cleaners & Deodorizers
Find a range of cleaning products made especially for your appliance. Use affresh® Cooktop Cleaner for your ceramic cooktop.
Important Considerations
Electrical
Confirm that electrical output is sufficient for the location of your new range. Check the Use and Care Guide for specific electrical requirements. Check installation instructions for exact measurements.
Disposal
Decide how you will dispose of your old range, if necessary. Some retailers offer removal of your old range with delivery of your new one. Ranges in good condition may be donated to a local charity.
Installation
Contact a licensed professional for installation. New installations may require significant carpentry and electrical skills.

Pick a Colour and Finish
Models are available in: